"God's Open Door at the Centre
of the Community"
We are sorry to say - There are currently no weekday children's groups taking place. We will update when they are back running. In the meantime, however, our Open Door café (open between 10am and Noon) has an area set aside for parents / carers to sit with their babies / toddlers to enjoy refreshments, or simply spend time with others, in a safe and welcoming environment.
Our Open Door Vision Statement……
"Our vision is to be a church with an Open Door for all people to come in and for us to reach out, responding to the needs of the community and spreading the Good News of Jesus Christ."
The church magazine will be published here on our news page along with our latest news.
If you are a new comer, please make your self known to us at a service or any other event, we would love to meet you and have a look at our welcome leaflet - available here.
For more details of what Lymington URC has been doing and has planned check out our News Section and Events Calendar.
Join us for coffee in our garden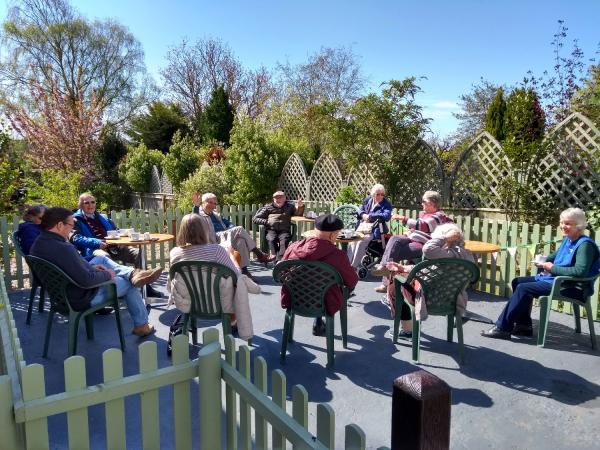 Church Events, Festivals & Exhibitions
Community Activities
Lymington URC is easy to find
We are easy to find. The United Reformed Church is situated in the middle of Lymington High Street, next to Elliotts Department Store and opposite Boots the Chemist.
There is no parking at the United Reformed Church.
PLEASE USE THE HIGH STREET (LIMITED TIME APPLIES) OR THE PAY & DISPLAY COUNCIL CAR PARKS. THE NEAREST CAR PARKS ARE LOCATED ON EMSWORTH ROAD, CANNON STREET AND ST. THOMAS STREET. see map